Why won't the national media cover the story Americans care about most?
Nolte: Looting Charges Dropped Against Hundreds in Democrat-Run New York City
Is Virginia About to Swing Red? Evidence Indicates the Blue Wave Has Crested In the Old Dominion
What happened when Trump tried to stop U.S. funding for the Communist Chinese Wuhan Lab
How Biden's climate change agenda hurts children
SCOTUS Wimps Out on Obamacare — Again
Woo hoo!! And we're now working on the last $4.4k!! Let's get 'er done. [FReepathon LXXX]
High-level Chinese Defection Rumored
For VP Kamala Harris, the presidency looks more and more like a long shot
Rep. Massie: sell off the U.S. embassy compound, get out of Iraq
Senate Democrats weigh $6T infrastructure bill, without GOP
Heck of a job on border security, Kamala
Bring back Trump to call out China and the Globalists
Biden's illegal-immigration welcome mat caused disaster at the border
'Even North Korea is not this nuts': Defector slams 'woke' US schools
Noah's Ark replica faces cosTly dilemma ... of biblical proporTions --- Replica deemed unseaworThy
Leaks Show Maricopa AudiT Will Deliver ... We MUST Begin FighTing --- The Cover-Up - Propaganda - Lies.
Covering Biden -- or Just Covering for Him?
The Media Didn't 'Get It Wrong' On Lafayette Park, They Lied To America — And They're Still Lying
Omar Is Forced To Clarify After Democrats Say She Equated U.S., Israel With Terrorists
Facebook and More Media Trump Lies
Republican victories in South Texas prove once again that demographics aren't everything
Congress Must Keep Liberty's Flame Alive
Progressives get vicious with Joe Manchin because he has principles
The Science Suggests a Wuhan Lab Leak
Because They Got Away with Russiagate
How China turned a prize-winning iPhone hack against the Uyghurs
Obama Predicts Major Discovery Could Spark 'New Religions'
Facebook suspends Trump's accounts for 2 years, citing public safety risk
Conservatives more susceptible to believing falsehoods
Joe Biden has his MAGA: Make America Goofy Again
They Lied, People Died: Media and Dems' Deadly Wuhan Narrative
Dreams of a new #NeverTrump political party? Good luck with that.
DeSantis signs transgender sports ban on first day of LGBTQ Pride Month
An Evangelical Battle of the Generations: To Embrace Trump or Not?
Trump's back. Here's what his re-entry means for 2024.
Texas Gov. Abbott to veto funding for state legislature amid spat over election bill
Fox's Lone-Wolf Liberal Had a Tough Job. But It Made for Better TV.
3 Ways We Can Pray for Our Nation
Stop China From Getting a Civilization-Killing Pathogen | Opinion
House Republicans Introduce 'Stars and Stripes' Bill to Ban Flying 'Political,' BLM Flags at U.S. Embassies
Vice President Kamala Harris under fire for 'disrespectful' tweet
3 Ways We Can Pray for Our Nation
As pandemic wanes, Florida's DeSantis seizes national stage
Memorial Day Prayer Honoring Those Who Have Sacrificed Their Lives
---
Status: Not Logged In; Sign In
United States News
See other United States News Articles
Title: Trump rips Redskins, Indians for eyeing name changes to be 'politically correct'
Source: Signs of The Times/NY Post
URL Source: https://www.sott.net/article/437688 ... nges-to-be-politically-correct
Published: Jul 7, 2020
Author: Bob Fredericks
Post Date: 2020-07-07 15:58:09 by Deckard
Keywords: None
Views: 78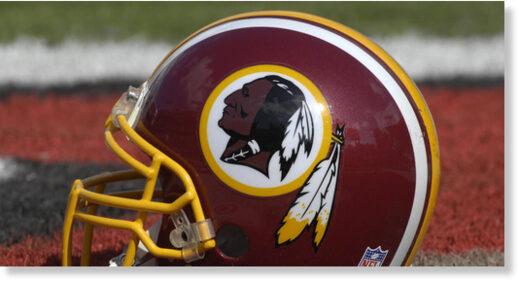 "They name teams out of STRENGTH, not weakness, but now the Washington Redskins & Cleveland Indians, two fabled sports franchises, look like they are going to be changing their names in order to be politically correct. Indians, like Elizabeth Warren, must be very angry right now!" Trump tweeted.

The Redskins, who have long faced criticism from Native American groups and others, said last week it would consider a name change.

Nike appeared to have pulled Redskins merchandise off its website after FedEx — the company whose name is on the arena where the team plays — publicly called on the franchise to change its name, putting increasing pressure on owner Dan Snyder, who has refused to consider a name change for years, Fox Business reported.

On Sunday, three minority owners, Robert Rothman, Dwight Schar and Fred Smith, who own a combined 40 percent of the team, said they were "not happy being a partner" with Snyder and hired an investment firm to search for potential buyers of their shares, the Washington Post reported Sunday.

The Cleveland Indians have also come under fire over the years over the team name and its logo depicting a caricature of a Native American, "Chief Wahoo."

Cleveland manager Terry Francona said Sunday he was in favor of the team changing its name, according to BleacherReport.com.

Addressing reporters during summer camp on Sunday, Francona said "it's time to move forward" with a new name.

In a statement released Friday, the team announced it was looking at other options for a name.

"We have had ongoing discussions organizationally on these issues. The recent social unrest in our community and our country has only underscored the need for us to keep improving as an organization on issues of social justice," the team said.

"With that in mind, we are committed to engaging our community and appropriate stakeholders to determine the best path forward with regard to our team name."

Trump's tweet came minutes after White House spokeswoman Kayleigh McEnany told reporters she was unaware of Trump's position on the issue.
Comment: Hysterics seem incapable of realizing that not everyone agrees with them. Or at the very least, they don't care. They just want the world to conform to their image of it, no matter how silly or unreasonable their wishes may be.
(1 image)
Post Comment Private Reply Ignore Thread
---