David Dees was born on July 9, 1957 and passed away on May 31, 2020
Screaming children run from oversized vaccine death needles. Barack Obama shows off a handwritten birth certificate bearing the words "KENYA" and "FIRE ME." Swastika-inscribed fluoride tanks empty themselves into lakes beneath a sky full of chemtrails. It's every overblown conspiracy theorist's nightmare, and there's not a drop of irony in sight.
Each image is just one more window into the bizarre, sad, and preposterously earnest mind of David Dees—the artist-in-residence for internet truthers everywhere.
Unless you frequent the sorts of websites that exist to scream about martial law, building 7, and fluoride-related conspiracies of all sorts, you might never have the pleasure of coming across any of Dees' work at all. But for fans of the bullshit-peddlers making their money off people's most paranoid delusions, David Dees' artwork is as ubiquitous as the Zionists controlling our media.
Popular conspiracist personalities like Alex Jones and Jeff Rense regularly take advantage of Dees' free-to-use illustrations. But it's not just the big names; dozens if not hundreds of smaller sites blogging in the name of Truth (911blogger.com, Truth Alerts, The Hollow Earth Insider, and Real Jew News, to name but a few) also make use of his various frenzied hellscapes.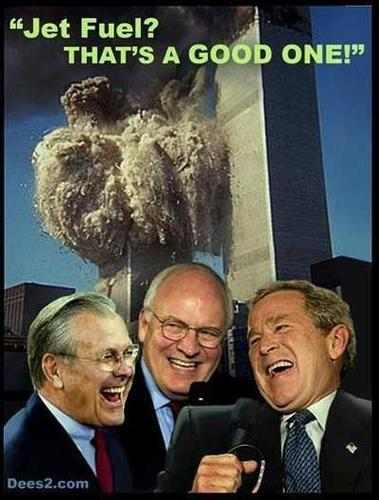 And it's easy to see why—Dees' work is void of any sense of shame or apology. Recently, the landing page of his website consisted almost entirely of a chart titled "Holocaust Gas Chambers = ZIONIST JEWS HOAX." After all, you're not going to wake up the American people with subtlety. And according to Dees, they have a lot to wake up to.
I first became aware of his work while doing some research on anti-vaxxers. As I browsed the multitude of evil-vaccine manifestos, one of his more popular pieces caught my eye. Because if nothing else, Dees has certainly succeeded in making sure his work manages to stand out.
Compelled to follow the calling card plastered across the bottom of nearly every image he creates, I found myself mesmerized by what appeared to be a vast, outlandish amalgam of every possible conspiracy theory ever wrought. I had to probe further, if simply for the fact that the number of fringe (and often conflicting) beliefs Dees subscribes to is admirable in his ability to withstand the cognitive dissonance alone.
After attempting to audit his entire artistic back catalogue and giving up about a tenth of the way through, these are just a few of the major injustices as I understand them to exist in the world of Dees: Chemtrails, Obama is causing famine, the Euro is killing the EU, GMOs are killing our children, aspartame is poison, TSA is molestation, TSA's x-rays cause cancer, Wal-Mart is killing commerce, America is dead in general, the government is hiding the truth about tower 7 and also everything, Earth Day is a Marxist/Zionist conspiracy, Microsoft is using vaccines to kill African children, every major politician is in on every conspiracy, the Charlie Hebdo shooting was a Zionist false flag, Ron Paul is a god, Hitler was an OK guy—etc.
Perhaps it's this attempt to hit every potentially offensive idea conspiracists have ever cooked up that makes the notion of David Dees as sincere so difficult to fathom: Surely no one man can truly believe all this? Maybe he's in it for money.
But that's where it gets interesting. David Dees truly, wholeheartedly believes in everything he draws, and what's more, he doesn't make a dime off nearly half the work he puts out. Instead, he does it all for the sake of Truth with a capital T.
And, as he explained to me over email, because the Zionists own the media.
It's Sesame Street—a giggly, wiggly testament to the days before Dees "woke up," as he terms his introduction into the world of trutherisms. Yes, the heralder of the Holocaust hoax himself was drawing your child's favorite cartoons—but I'm getting ahead of myself.
Because even before he was a children's illustrator, David Dees harbored dreams of being an airbrush artist. You know those guys spraying gothic lettering onto t-shirts in the mall? Yes, those airbrush artists. Except Dees' ultimate goal centered around painting pretty pictures onto custom vans and motorcycles.
That was the greatest thing I could imagine, having a fantastic painting driving around on wheels for all to see—what an audience.
Clearly, he was already aching to have eyes on his work. That desire (coupled with increasing competition from digital illustrators) eventually brought him into the world of cartoon animation sometime in the early 90s. And Dees was nothing if not prolific; you may very well have seen his handiwork in everything from Looney Tunes paraphernalia to Mickey Mouse to Disney book covers and, finally, in Sesame Street Magazine.
But while he was doing perfectly well for himself drawing middling cartoons for kids, he was in no way achieving the sort of fame and notoriety he so desperately craved. Then, in 2003, his commercial cartoonist career went to shit the minute David Dees saw this.
And this.
Photos of the 9/11 attack on the Pentagon that, according to Dees, incontrovertibly prove that the entire thing was a hoax—or at the very least, an inside job. As he explained to me over email:
[The photos] show an odd 15 foot hole, with all the windows intact around it, and no damage where the wings would have hit. And no plane inside the pentagon. I marked the pics attached with an arrow to where the 'plane' went in. Absurd.

Of course, as Purdue structural engineering professor Mete Sozen told Popular Mechanics, "A crashing jet doesn't punch a cartoon-like outline of itself into a reinforced concrete building... What was left of the plane flowed into the structure in a state closer to a liquid than a solid mass." But, you know—details.
The photos were evidence enough for Dees, who took it upon himself to "start down the rabbit hole of politics and exposing the international agenda of the Zionists." A rabbit hole that his coworkers at Sesame Street magazine, however, were less than enthused about.
I was best friends with the editor of Sesame Street magazine for over ten years, she is a zionist jew. I used to ask her what the whole uproar about jews was because they seemed really nice and intelligent. She would say she did not know. Then when I found out about the massacres of Palestinians and stealing their land in 1948 I confronted her with it, she was not happy.


Then when I discovered that 9/11 was not the arabs at all, but a big black op by the zionist controlled government America has become, I confronted her with that. She was yelling that none of that is true. So I had to leave Sesame Street.
I attempted to contact some of the past editors of (the now defunct) Sesame Street Magazine who might have worked with him. But every one either declined to respond or claimed not to have known him at all. A current spokesperson for Sesame Street told me that, because Dees was a freelancer, very few people would have worked with him directly. So as far as the circumstances surrounding his departure go, Dees' is the only word we have.
Then, out of job, jaded, and fed up with what he saw as an American people made entirely of zombies in fugue states, Dees fled to Sweden, where he believed that the government would be less "hostile towards its people." Of course, it didn't hurt that Sweden itself was less susceptible to the inevitable chaos of the upcoming global apocalypse. As Dees explained:

After a short time, I met an old Swedish man who explained how he worked on a top secret state project of a [series of] massive underground facilities stocked and large enough for the whole population of 9 million. He said the entrance was in a forest in an unpopulated area, and down a simple road that was guarded. Then you just drive right down into the entrance, extremely hidden. He said a bus would take them there, but he could not figure out where they were. He also talked about the special section for the Swedish royal family, although he said it was not particularly ornate.


In the USA you can be sure we will not be invited into the bunkers for protection if the earth convulses like predicted, those are for the elite asses that currently rule over us.
So Dees took his newfound animation skill and began to channel it into a different medium—what he calls "political satire." Very little of it was for profit, with the ultimate goal simply being to jerk people our of their toxic bed of government-bred lies. Dees' descent down the rabbit hole had darkened his world beyond repair, sure, but he was finally making a name for himself—which is all he ever wanted in the first place.
Before I woke up to 9/11, [my work] was 100 percent commissioned, I never ever did art for my own enjoyment, it was just a job. But now I have a massive audience who are interested in what I have to offer about world events. That is something I never dreamed could happen.
But apparently, even Sweden isn't safe. Once Dees started finding house keys mysteriously missing and bikes stolen, he became convinced that Monsanto was after him. The only logical conclusion, then, was of course to move to Oregon, where he's been churning out little bits of Photoshopped truth ever since.

Now, that's not to say he's currently safe from the people that wish to silence him, either because they're hoping to hide the truth, as seen below.
Or because they're simply too blind to see what's right in front of their faces. As Dees explained:
Someone who cannot figure out 9/11 or chemtrails sprayed right over their heads are people I avoid and consider either remarkably stupid or have an emotional problem keeping them from confronting blatant evidence. It feels at times that I am in a cheap science fiction movie where the townspeople are unaware of the sinister lifeforms walking amongst us. And that being all the attacks coming in the form of silent weapons, GMO's, vaccines, chemtrails, fluoride, Aspartame, Cell Towers, and on and on.

We are in big trouble, and a huge percentage of the population are so affected they cannot see the darts hitting them. No one is protesting, I think there is probably some sort of beamed weapon on all of us sedating the masses. That would explain the odd behavior of the obese american monsters that waddle through Walmart.
(8 images)