Title: Alexandria Ocasio-Cortez: 'What We Need to Do is Have a Serious Conversation' About Cow Flatulence
Source: CNS
URL Source: http://cnsnews.com
Published: Apr 6, 2019
Author: Staff
Post Date: 2019-04-06 12:21:50 by IbJensen
Keywords: None
Views: 138
Comments: 6

Rep. Alexandria Ocasio-Cortez (D.-N.Y.) said in a March 29 appearance on MSNBC's "All in With Chris Hayes" that Americans "need to have a serious conversation" about climate change, including the contribution being made to it by "cow flatulence."
The issue came up when Hayes referenced a "FAQ" put out by Ocasio-Cortez's office in February that explained her Green New Deal and conceded that the changes that it envisioned within 10 years would have a certain limit because they might not be able to "get rid of farting cows and airplanes" within that time frame.
After the FAQ was released, Ocasio-Cortez's office amended it to change "farting cows" to "emissions from cows," and then withdrew it entirely.
"It had some things that people thought were ridiculous and radical like anyone that was unable or unwilling to work when we guaranteed a job, Hayes said of the FAQ to Ocasio-Cortez.
"The FAQ was withdrawn and said it was preliminary, a draft," Hayes said. "There was a lot of fight about that. Like you do you, do you think you guys rolled it out the right way? Did you bring it back any on yourself?"
Alexandria Ocasio-Cortez responded: What I will say is that there--I definitely had a staffer that had a very bad day at work and did release a working draft early. So I get that that's what they're seizing on. But really what we need to do is have a serious conversation. And even in in those draft versions, what they were talking about, and, is really about the fact that we need to innovate on our technology you know? Obviously like, I had a staffer you know, released a document to talk about cow flatulence but--
Hayes interrupted: Which is an issue, I just want to say.
"Which is an issue, but here`s the thing," said Ocasio-Cortez.
"It sounds ridiculous but it literally is an issue," said Hayes.
"But actually it`s an issue when it comes to contributing to methane," said Ocasio-Cortez, "but that doesn`t mean you end cows. It means that we need--What it means is that we need to innovate and change our grain, our cow grain, from which you know, they feed in these troughs, that we need to really take a look at regenerative agriculture. Like these are our solutions."
The original FAQ released by Ocasio-Cortez's office asked: "Why 100% clean and renewable and not just 100% renewable? Are you saying we won't transition off fossil fuels?"
The FAQ's response to this question was: "Yes, we are calling for a full transition off fossil fuels and zero greenhouse gases. Anyone who has read the resolution sees that we spell this out through a plan that calls for eliminating greenhouse gas emissions from every sector of the economy.
Simply banning fossil fuels immediately won't build the new economy to replace it—this is the plan to build the new economy and spells out how to do it technically. We do this through a huge mobilization to create the renewable energy economy as fast as possible.
We set a goal to get to net-zero, rather than zero emissions, in 10 years because we aren't sure that we'll be able to fully get rid of farting cows and airplanes that fast, but we think we can ramp up renewable manufacturing and power production, retrofit every building in America, build the smart grid, overhaul transportation and agriculture, plant lots of trees and restore our ecosystem to get to net zero."
---
Poster Comment:
What about chicken farts? What about Hillary farts?
One can only wonder about the chatter that emanates from her juvenile mouth while her roommate is shagging her. Perhaps he shoves a rag in her mouth.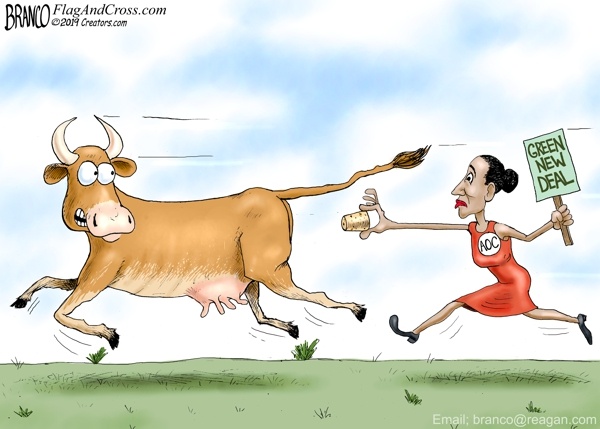 (2 images)