Senate Issues Failing Dairy Industry $1 Billion Handout (Gov Cheeze Welfare)
Innocent 84yo Grandmother Assaulted by Police as They Did a Welfare Check on Her Neighbor
Preachers Jailed for Talking About Christianity Without Getting Police Permission First
American flag was ripped from a flagpole, desecrated, slashed and replaced with ISIS flag at UTAH high school
What the SpaceX Success Means for the Moon, Mars, and More
Tucker Carlson: Indicted Russians Were Facebook Trolls
Student who survived Parkland school shooting: 'We were told the police would do a fake code red, with fake guns'
The Trump Presidency: A Repeat Of G.W. Bush?
House Freedom Caucus Is On the Warpath Again
Over 98% of mass shootings occurred on gun-free zones, research shows
25 Disturbing Facts About Refugee Resettlements from Somalia
13 Russian nationals indicted for interfering in US elections
Mueller Accuses 13 Russians of Aiding Trump
Tearful Jimmy Kimmel Pops off on Trump: 'You're Obviously Mentally Ill'
Trump Talked About 'Big Black Dick' and Offended Playboy Model
Immigrant rights activists block Homeland Security van from accessing Metropolitan Detention Center
Nazi Germany's (and America's) Drug War
In 3 Years, Cops Have Killed 450% More Citizens Than 4 Decades of Mass Shootings COMBINED
With McCain's retreat, some turn to Romney to carry his torch
Family Members Say Florida School Shooter Was On Antidepressants for Emotional Issues
Students Report Multiple Shooters & Mass Shooting Drill at Florida High School
Grassley Says He Wants to Discuss Gun Legislation After Massacre
Hmm: FBI warned about Parkland school shooter...but couldn't ID him?
Shooting at N.S.A. Headquarters Leaves Several Injured
Thoughts & Prayers... and NRA Funding...
Christian parents lose custody of daughter after refusing to support her 'transition' to male
Dim-witted Cops Look Like Clowns Bragging About Dozens of Raids for Entirely LEGAL Hemp CBD
Dead Male Prostitute, Piles of Meth Found in Clinton Mega-Donor's Home—NO ARRESTS
One Pentagon Agency Lost Track of $800 Million—But Now We're Spending Even More on Defense
Drama on the House floor from the Freedom Caucus
Meet the most powerful man in the House
Trilateral conspirators out in the open—and Donald Trump
House Conservatives [Freedom Caucus] Revolt Over Immigration
Freedom Caucus Fires Fresh Warning Shots to Ryan on Immigration 'Consequences'
Rand Paul tried to do his job, and got the wrath of the Senate in exchange
NSA shooting: Several injured as vehicle crashes at gate
Should this be a required first day video for any new student in economics?
Delaware students can now choose their own race. This should end well
17 killed in shooting at high school in Parkland, Florida, authorities say
Politico/Morning Consult: Republicans take first lead on generic ballot
Evolution or Creation Science?
Sony Apologizes for Weaponizing a Food Allergy in "Peter Rabbit", Because We Live in Stupid Times
Fake news sharing in US is a rightwing thing
Trump's New Budget Plan Is a Fiscal Disaster
China Set To Launch Yuan-Prices Oil Futures Next Month
Cops Called on Parents Whose Autistic 5-Year-Old Son's Hair Was Too Messy
The Military Industrial Complex Strikes Again: War Spending Will Bankrupt America
Water, Water Everywhere, But Not a Drop on Earth
Duke prof suggests libertarians are 'on the autism spectrum'
---
Status: Not Logged In; Sign In
Bush Wars
See other Bush Wars Articles
Title: How President Trump Normalized Neoconservatism
Source: Ron Paul Institute for Peace & Prosperity
URL Source: http://ronpaulinstitute.org/archive ... mp-normalized-neoconservatism/
Published: Jan 18, 2018
Author: Ilana Mercer
Post Date: 2018-01-18 03:49:22 by hondo68
Ping List: *Constitution Party* Subscribe to *Constitution Party*
Keywords: doesnt know Shiite, from Shinola, Saudi-Israeli, -American-Axis-of-Angels
Views: 27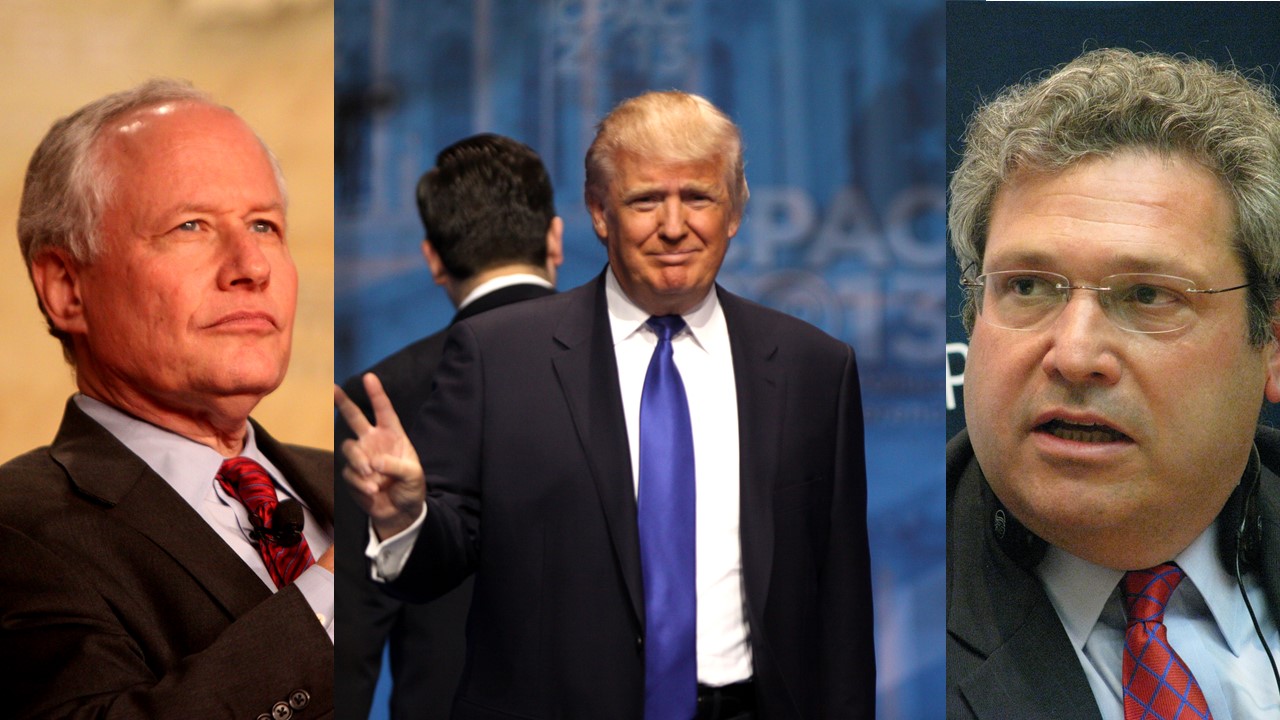 It's fact: Neoconservatives are pleased with President Trump's foreign policy.

A couple of months back, Bloomberg's Eli Lake let it know he was in neoconservative nirvana:

"… for Venezuela, [Donald Trump] came very close to calling for regime change. 'The United States has taken important steps to hold the regime accountable,' Trump said. 'We are prepared to take further action if the government of Venezuela persists on its path to impose authoritarian rule on the Venezuelan people.'"

"For a moment," swooned Lake, "I closed my eyes and thought I was listening to a Weekly Standard editorial meeting."

Onward to Venezuela!

Mr. Lake, a neoconservative, was loving every moment. In error, he and his kind confuse an expansionist foreign policy with "American exceptionalism."

It's not.

As it happens, neocons are in luck. Most Americans know little of the ideas that animated their country's founding. They're more likely to hold ideas in opposition to the classical-liberal philosophy of the Founders, and, hence, wish to see the aggrandizement of the coercive, colossal, Warfare State.

That's just the way things are.

So, Saudi Arabia and the United Arab Emirates have enlisted the West in "a proxy Sunni-Shia religious war," Riyadh's ultimate aim. Donald Trump has been perfectly willing to partake.

After a campaign of "America First," the president sided with Sunni Islam while demonizing Iran. Iranians have killed zero Americans in terrorist attacks in the US between 1975-2015; Saudi Arabians murdered 2369!

Iranians recently reelected a reformer. Pray tell who elected the Gulf petrostate sheiks?

Moderates danced in the streets of Tehran when President Hassan Rouhani was reelected. Curiously, they've recently been rioting.

If past is prologue, Ron Paul is probably right when he says the CIA is likely meddling in Iranian politics. For the Left and the pseudo-Right, this is a look-away issue. As the left-liberal establishment lectures daily, to question the Central Intelligence Agency—its spooks are also agitating against all vestiges of President Trump's original "America First" plank—is to "undermine American democracy."

Besides, "good" Americans know that only the Russians "meddle."

In Saudi Arabia, a new, more-dangerous regime is consolidating regional power. Almost overnight has the kingdom shifted from rule by family dynasty (like that of the Clintons and the Bushes), to a more authoritarian style of one-man rule.

When it comes to the Saudi-Israeli-American-Axis-of-Angels, the Kushner-Trump Administration—is that another bloodline in-the-making?—has not broken with America's ruling dynastic families (the Clintons and the Bushes, aforementioned).

It's comforting to know Saudi Arabia plays a crucial role in the UN's human rights affairs. In January of last year, the Kingdom executed 47 people in one day, including a rather benign Shiite cleric. Fear not, they went quickly, beheaded with a sword.

Then US ambassador to the UN, Samantha Power, a woman as dumb and dangerous as Nikki Haley, was cool with the carnage. (One almost misses Henry Kissinger's realpolitik. At least the man was highly educated and deeply knowledgeable about history and world affairs. Second only to Jared Kushner, of course.)

Our bosom buddies, the Saudi's, are currently barricading Yemeni ports. No aid gets through her hermetically sealed ports. Yemenis are dying. Some Twitter followers twittered with joy at the sight of starving Yemeni babies, like this one. Oh well, Yemeni babies can be sinister.

No one would deny the largely neoconservative nature of Trump's National Security Strategy. Tucked in there somewhere is the Trumpian theme of "sovereignty," but in watered-down words. The promised Wall has given way to "multilayered technology"; to the "deployment of additional personnel," and to the tried-and-tested (not!) "vetting of prospective immigrants, refugees, and other foreign visitors."

These are mouthfuls Barack Obama and Genghis Bush would hardly oppose.

"It's often said that the Trump administration is 'isolationist,'" wrote historian Andrew J. Bacevich, in the UK Spectator. Untrue. "In fact, we are now witnessing a dramatic escalation in the militarization of US foreign policy in the Middle East, Africa and Afghanistan. This has not been announced, but it is happening, and much of it without ... any debate in Congress or the media."

Indeed, while outlining his "new" Afghanistan plan, POTUS had conceded that "the American people are weary of war without victory." (Make that war, full-stop.) Depressingly, the president went on to promise an increase in American presence in Afghanistan. By sending 4000 additional soldiers there, President Trump alleged he was fighting terrorism, yet not undertaking nation building.

This is tantamount to talking out of both sides of one's mouth.

Teasing apart these two elements is near-impossible. Send "4,000 additional soldiers to add to the 8,400 now deployed in Afghanistan," and you've done what Obama and Bush before you did in that blighted and benighted region: muddle along; kill some civilians mixed in with some bad guys; break bread with tribal leaders (who hate your guts); mediate and bribe.

Above all, spend billions not your own to perfect the credo of a global fighting force that doesn't know Shiite from Shinola.

The upshot? It's quite acceptable, on the Left and the pseudo-Right, to casually quip about troops in Niger and Norway. "We have soldiers in Niger and Norway? Of course we do. We need them."

With neoconservatism normalized, there is no debate, disagreement or daylight between our dangerously united political factions.

This is the gift President Trump has given mainstream neoconservatives—who now comfortably include neoliberals and all Conservatism Inc., with the exceptions of Pat Buchanan, Ann Coulter and Tucker Carlson.

How exactly did the president normalize neoconservatism: In 2016, liberals accused candidate Trump of isolationism. Neoconservatives—aka Conservatism Inc.—did the same.

Having consistently complained of his isolationism, the Left and the phony Right cannot but sanction President Trump's interventionism. The other option is to admit that we of the callused Old Right, who rejoiced at the prospects and promise of non-interventionism, were always right.

Not going to happen.

To some, the normalizing of neoconservatism by a president who ran against it is a stroke of genius; of a piece with Bill Clinton's triangulation tactics. To others, it's a cynical sleight of hand.

Ilana Mercer has been writing a paleolibertarian column since 1999, and is the author of "The Trump Revolution: The Donald's Creative Destruction Deconstructed" (June, 2016) & "Into the Cannibal's Pot: Lessons for America From Post-Apartheid South Africa" (2011). Follow her on Twitter, Facebook,Gab & YouTube.
---
Poster Comment: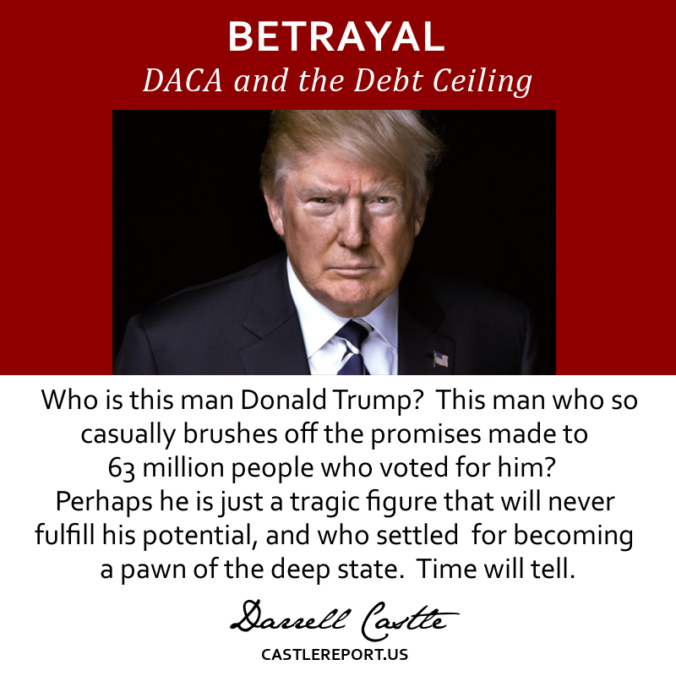 Betrayal
September 22, 2017 / Darrell Castle
Darrell Castle talks about President Trump's broken promises and the tragedy of what could have been.
(2 images)
Subscribe to *Constitution Party*
Post Comment Private Reply Ignore Thread
---