The Coordinated 'War of Words' Against Trump [Democrat-Owned Media Cartel Admit Collusion Against Trump]
Chelsea Clinton Claims Aborting 60 Million Babies Since Roe "Added $3.5 Trillion to Our Economy"
87-year-old Great-Grandmother Tasered in Her Breast by Police While Cutting Dandelions with a Knife
Technocrats Rule: Democracy Is OK as Long as the People Rubberstamp Our Leadership
Somerville's mayor says he won't drink Sam Adams anymore after Jim Koch thanked Trump for a tax break
Judge Releases Suspects Accused of Abusing and Training Children to Carry Out School Shootings
Hillary a better President than Trump - Would have been Impeached, Removed, and Jailed by now
SWEDEN IS BURNING: MIGRANT GANGS UNLEASH COORDINATED FIRE-BOMB RAMPAGE ACROSS MULTIPLE CITIES
Trump vs. His Own Administration?
Oklahoma Police Sued for Wrongfully Subjecting Reserve Police Officer to Warrantless Search, Seizure of Lawful Firearms & Prescription Meds
From Boston to Ferguson to Charlottesville: The Evolution of a Police State Lockdown
Capitalism Is Being Rejected by Young Americans in Huge Numbers
April Ryan Calls Omarosa 'Evil' and a 'Liar'
Woman Calls Cops on State Senator for Being Anti-Trump
Trump Signs $82 Billion Spending Boost for Pentagon
Michael Drejka, Who Supposedly Could Not Be Arrested for Killing Markeis McGlockton, Is Charged With Manslaughter
Remembering Darryl Stingley: The Player, The Hit, The Man
FBI fires Peter Strzok over anti-Trump texts
Psychiatric Drugs for Kids–– A Big (and Dangerous) Pharma Marketing Push
Government's Own Report Shows Tax Dollars Spent in Afghanistan Have Boosted Opium Production
Gun Owners Should Fear the Deep State
In A Corporatist System Of Government, Corporate Censorship Is State Censorship
American Aluminum Manufacturer Seeks Relief From Tariffs Meant to Help American Aluminum Manufacturers
Omarosa claims she heard Trump N-word tape after book's publication (She's so full of defecation)
1 arrested as 'Unite The Right 2' organizers board Metro on their way to DC (rally & Counterprotests)
The Satanic Nature of the Atomic Bombings of Hiroshima and Nagasaki
Trump Disliked As Strongly As Nixon Was Before Watergate
Catholic bishops urge Florida governor to spare death-row inmate (They still call it the Catholic Church)
Exposed: the Deep State's Authorship and Publication of the Dossier
Melania Trump's parents become naturalized US citizens (Chain Migration)
Washington, D.C., Braces for 'Unite the Right 2' White Nationalist Rally
'The Secret Service will physically remove him'
Woman, 81, busted smuggling $870G of heroin across US-Mexico border, cops say
Grassley Announces Senate Confirmation Hearings on Kavanaugh September 4–7
A Koch Brothers-Commissioned Survey Found Americans Really Like Free College and Universal Health Care
Canadian Professor of Psychology, Jordan Peterson: A One-Man Conservative Wrecking Crew of PCism and Leftist Cultural Indoctrination (Vanity)
Border Jumper Breaks Both Legs in California After Falling Off New 30-Foot High Border Wall
'Peanuts' cartoons have racial stereotype, according to 'The Daily Show'
WTH? FBI stalling led New Mexico police to step up and take down TERRORIST training camp
The Trump Administration Is a Sinkhole of Sleaze
Officer Admitted He 'F***ed Up' After Fatally Shooting an Unarmed Man
Mom of Newborn Reported to State for Eating a Poppy Seed Bagel
Australia: 100 Africans Attack Melbourne's North-West Taylor's Hill Suburb (Sudanese youths)
2020: Oddsmakers Favoring Kamala Harris to Win Dem Presidential Nomination
Eric Clanton takes 3-year probation deal in Berkeley rally bike lock assault case (Ethics Professor, plea bargan)
Americans Are Begging the Government and Corporations to End Free Speech
Lawmaker Proposes Implanting Microchips in People to Track Non-Violent Offenders Like "Pets"
---
Status: Not Logged In; Sign In
Bush Wars
See other Bush Wars Articles
Title: How President Trump Normalized Neoconservatism
Source: Ron Paul Institute for Peace & Prosperity
URL Source: http://ronpaulinstitute.org/archive ... mp-normalized-neoconservatism/
Published: Jan 18, 2018
Author: Ilana Mercer
Post Date: 2018-01-18 03:49:22 by hondo68
Ping List: *Constitution Party* Subscribe to *Constitution Party*
Keywords: doesnt know Shiite, from Shinola, Saudi-Israeli, -American-Axis-of-Angels
Views: 64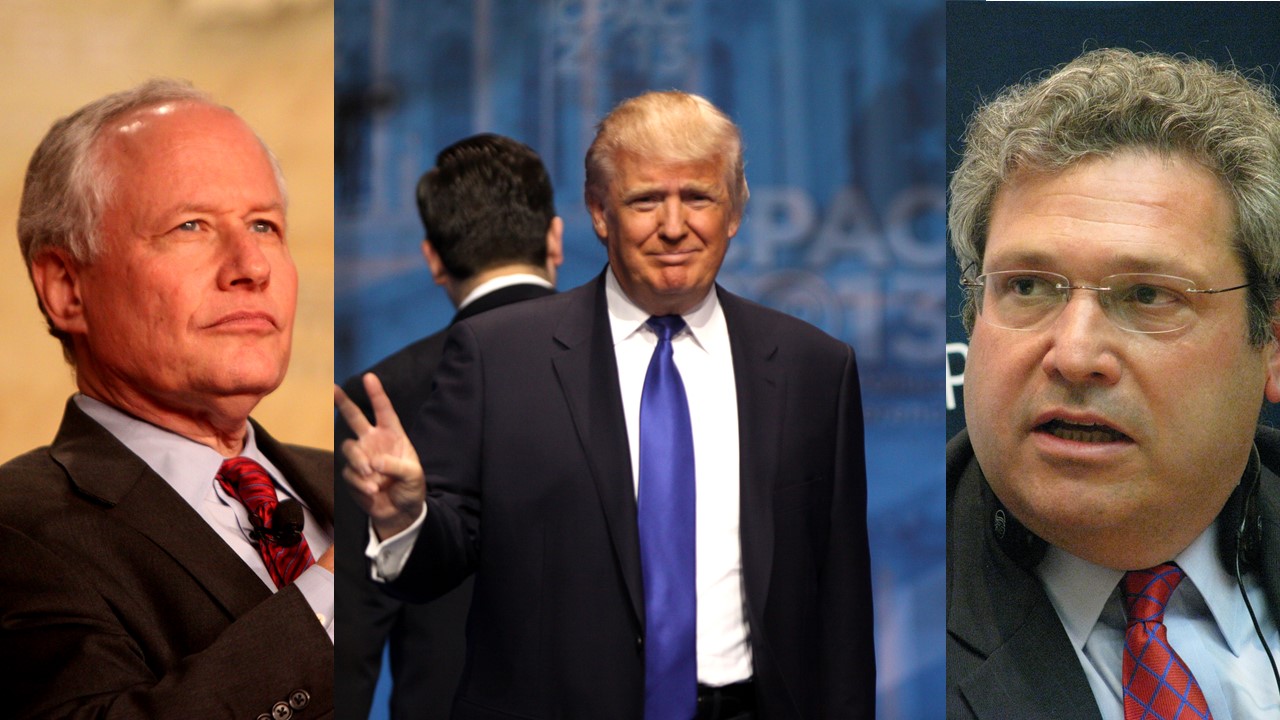 It's fact: Neoconservatives are pleased with President Trump's foreign policy.

A couple of months back, Bloomberg's Eli Lake let it know he was in neoconservative nirvana:

"… for Venezuela, [Donald Trump] came very close to calling for regime change. 'The United States has taken important steps to hold the regime accountable,' Trump said. 'We are prepared to take further action if the government of Venezuela persists on its path to impose authoritarian rule on the Venezuelan people.'"

"For a moment," swooned Lake, "I closed my eyes and thought I was listening to a Weekly Standard editorial meeting."

Onward to Venezuela!

Mr. Lake, a neoconservative, was loving every moment. In error, he and his kind confuse an expansionist foreign policy with "American exceptionalism."

It's not.

As it happens, neocons are in luck. Most Americans know little of the ideas that animated their country's founding. They're more likely to hold ideas in opposition to the classical-liberal philosophy of the Founders, and, hence, wish to see the aggrandizement of the coercive, colossal, Warfare State.

That's just the way things are.

So, Saudi Arabia and the United Arab Emirates have enlisted the West in "a proxy Sunni-Shia religious war," Riyadh's ultimate aim. Donald Trump has been perfectly willing to partake.

After a campaign of "America First," the president sided with Sunni Islam while demonizing Iran. Iranians have killed zero Americans in terrorist attacks in the US between 1975-2015; Saudi Arabians murdered 2369!

Iranians recently reelected a reformer. Pray tell who elected the Gulf petrostate sheiks?

Moderates danced in the streets of Tehran when President Hassan Rouhani was reelected. Curiously, they've recently been rioting.

If past is prologue, Ron Paul is probably right when he says the CIA is likely meddling in Iranian politics. For the Left and the pseudo-Right, this is a look-away issue. As the left-liberal establishment lectures daily, to question the Central Intelligence Agency—its spooks are also agitating against all vestiges of President Trump's original "America First" plank—is to "undermine American democracy."

Besides, "good" Americans know that only the Russians "meddle."

In Saudi Arabia, a new, more-dangerous regime is consolidating regional power. Almost overnight has the kingdom shifted from rule by family dynasty (like that of the Clintons and the Bushes), to a more authoritarian style of one-man rule.

When it comes to the Saudi-Israeli-American-Axis-of-Angels, the Kushner-Trump Administration—is that another bloodline in-the-making?—has not broken with America's ruling dynastic families (the Clintons and the Bushes, aforementioned).

It's comforting to know Saudi Arabia plays a crucial role in the UN's human rights affairs. In January of last year, the Kingdom executed 47 people in one day, including a rather benign Shiite cleric. Fear not, they went quickly, beheaded with a sword.

Then US ambassador to the UN, Samantha Power, a woman as dumb and dangerous as Nikki Haley, was cool with the carnage. (One almost misses Henry Kissinger's realpolitik. At least the man was highly educated and deeply knowledgeable about history and world affairs. Second only to Jared Kushner, of course.)

Our bosom buddies, the Saudi's, are currently barricading Yemeni ports. No aid gets through her hermetically sealed ports. Yemenis are dying. Some Twitter followers twittered with joy at the sight of starving Yemeni babies, like this one. Oh well, Yemeni babies can be sinister.

No one would deny the largely neoconservative nature of Trump's National Security Strategy. Tucked in there somewhere is the Trumpian theme of "sovereignty," but in watered-down words. The promised Wall has given way to "multilayered technology"; to the "deployment of additional personnel," and to the tried-and-tested (not!) "vetting of prospective immigrants, refugees, and other foreign visitors."

These are mouthfuls Barack Obama and Genghis Bush would hardly oppose.

"It's often said that the Trump administration is 'isolationist,'" wrote historian Andrew J. Bacevich, in the UK Spectator. Untrue. "In fact, we are now witnessing a dramatic escalation in the militarization of US foreign policy in the Middle East, Africa and Afghanistan. This has not been announced, but it is happening, and much of it without ... any debate in Congress or the media."

Indeed, while outlining his "new" Afghanistan plan, POTUS had conceded that "the American people are weary of war without victory." (Make that war, full-stop.) Depressingly, the president went on to promise an increase in American presence in Afghanistan. By sending 4000 additional soldiers there, President Trump alleged he was fighting terrorism, yet not undertaking nation building.

This is tantamount to talking out of both sides of one's mouth.

Teasing apart these two elements is near-impossible. Send "4,000 additional soldiers to add to the 8,400 now deployed in Afghanistan," and you've done what Obama and Bush before you did in that blighted and benighted region: muddle along; kill some civilians mixed in with some bad guys; break bread with tribal leaders (who hate your guts); mediate and bribe.

Above all, spend billions not your own to perfect the credo of a global fighting force that doesn't know Shiite from Shinola.

The upshot? It's quite acceptable, on the Left and the pseudo-Right, to casually quip about troops in Niger and Norway. "We have soldiers in Niger and Norway? Of course we do. We need them."

With neoconservatism normalized, there is no debate, disagreement or daylight between our dangerously united political factions.

This is the gift President Trump has given mainstream neoconservatives—who now comfortably include neoliberals and all Conservatism Inc., with the exceptions of Pat Buchanan, Ann Coulter and Tucker Carlson.

How exactly did the president normalize neoconservatism: In 2016, liberals accused candidate Trump of isolationism. Neoconservatives—aka Conservatism Inc.—did the same.

Having consistently complained of his isolationism, the Left and the phony Right cannot but sanction President Trump's interventionism. The other option is to admit that we of the callused Old Right, who rejoiced at the prospects and promise of non-interventionism, were always right.

Not going to happen.

To some, the normalizing of neoconservatism by a president who ran against it is a stroke of genius; of a piece with Bill Clinton's triangulation tactics. To others, it's a cynical sleight of hand.

Ilana Mercer has been writing a paleolibertarian column since 1999, and is the author of "The Trump Revolution: The Donald's Creative Destruction Deconstructed" (June, 2016) & "Into the Cannibal's Pot: Lessons for America From Post-Apartheid South Africa" (2011). Follow her on Twitter, Facebook,Gab & YouTube.
---
Poster Comment: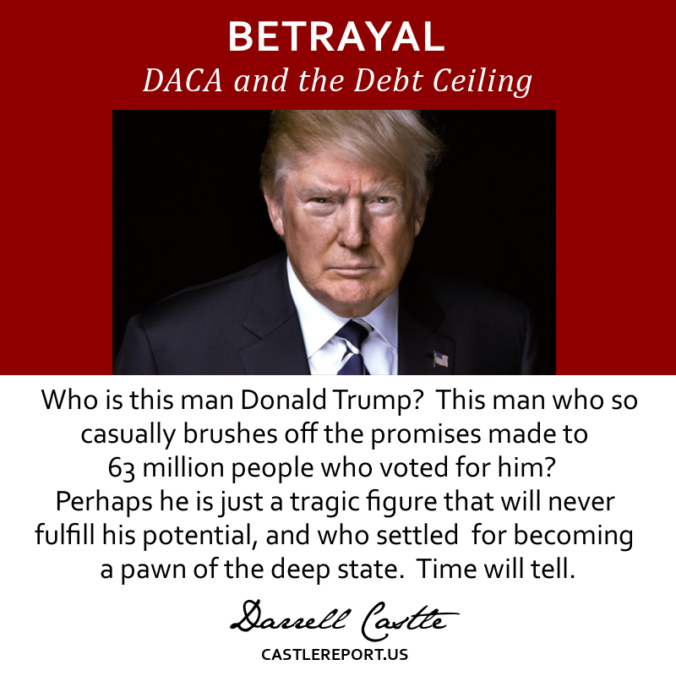 Betrayal
September 22, 2017 / Darrell Castle
Darrell Castle talks about President Trump's broken promises and the tragedy of what could have been.
(2 images)
Subscribe to *Constitution Party*
Post Comment Private Reply Ignore Thread
---