Title: Former US president George HW Bush apologizes after actress claims he 'sexually assaulted' her from his WHEELCHAIR
Source: Daily Mail
URL Source: http://www.dailymail.co.uk/news/art ... d-her.html?ito=social-facebook
Published: Oct 25, 2017
Author: Jessica Finn
Post Date: 2017-10-25 12:48:37 by Hondo68
Keywords: None
Views: 256

Actress Heather Lind made allegations Tuesday claiming when she met former President George H.W. Bush, 93, he 'sexually assaulted' her from his wheelchair
She claimed the 'assault' happened during a photo-op with wife Barbara Bush standing by his side, and claims his wife saw the incident unfold
The now 34-year-old actress also claimed that afterwards Bush's security detail told her she shouldn't have stood next to the former president for the photo-op
Lind says this happened four years ago while she was promoting a movie
In a statement to DailyMail.com the former president has apologized for the incident saying it was an 'attempt at humor' and not meant to offend Lind
Former President George HW Bush has apologized after an actress claimed he 'sexually assaulted' her while he was in his wheelchair.
Heather Lind, 34, who starred in AMC's series 'Turn: Washington's Spies', made the allegations against the 93-year-old former president on Instagram in a lengthy post with accompanying photos.
'When I got the chance to meet George H. W. Bush four years ago to promote a historical television show I was working on, he sexually assaulted me while I was posing for a similar photo. He didn't shake my hand. He touched me from behind from his wheelchair with his wife Barbara Bush by his side. He told me a dirty joke,' Lind alleges.
In a statement to DailyMail.com the former president responded: 'President Bush would never - under any circumstance - intentionally cause anyone distress, and he most sincerely apologizes if his attempt at humor offended Ms. Lind.'
The photo in question: Actress Heather Lind, now 34, claims she 'sexually assaulted' when this photo was taken. Pictured is former President George H.W. Bush with his wife and the cast and crew of AMC's TURN: Washington's Spies at a private screening of the series premiere in March 2014 in Houston, Texas. Back row, L-R: actors Seth Numrich, Samuel Roukin, Ian Kahn, Heather Lind, Kevin McNally and Burn Gorman. Bottom row: Barbara Bush and George H.W. Bush
The stunning actress took to Instagram to make the allegations against the former president
Lind said in her since-deleted Instagram post it happened a second time: 'And then, all the while being photographed, touched me again. Barbara rolled her eyes as if to say ''not again''. His security guard told me I shouldn't have stood next to him for the photo.'
The photo in question was taken at a private screening of AMC's TURN: Washington's Spies with the former president and first lady in March 2014 in Houston, Texas.
Standing alongside Lind and the Bushes were her fellow TURN cast members Seth Numrich, Samuel Roukin, Ian Kahn, Kevin McNally and Burn Gorman.
'We were instructed to call him Mr. President. It seems to me a President's power is in his or her capacity to enact positive change, actually help people, and serve as a symbol of our democracy,' the lengthy post went on.
'He relinquished that power when he used it against me and, judging from the comments of those around him, countless other women before me,' Lind wrote.
="
" class="related-carousel with-fb news" href="http://www.dailymail.co.uk/news/article-5014447/Actress-alleges-George-H-W-Bush-sexually-assaulted-her.html?ito=social-facebook">MORE: Click for Full Text!
---
Poster Comment:
Probably something he learned at Trump University.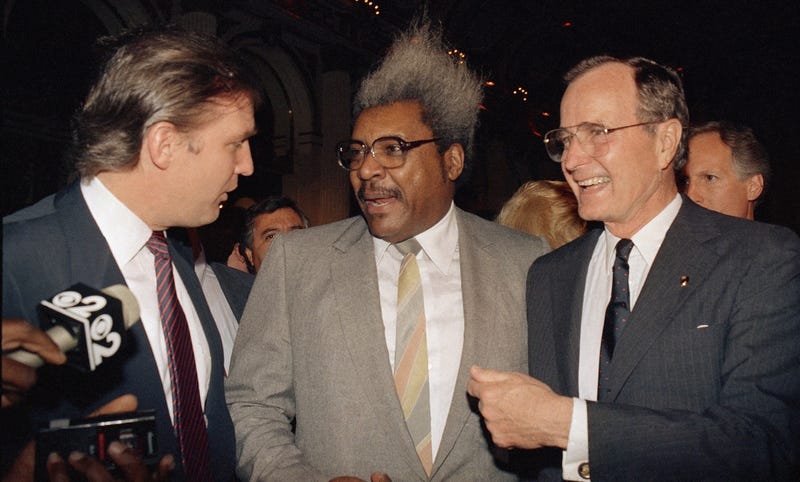 (4 images)