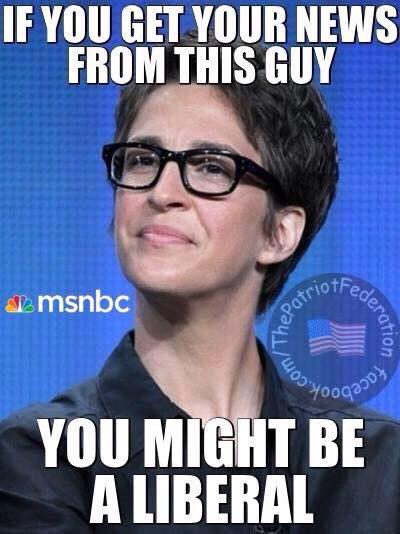 In recent days, Rachel Maddow has had more in common with Bill O'Reilly than the average MSNBC viewer might suspect.
For the first three nights of this week, Maddow's 9 p.m. broadcast on MSNBC was the most-watched on cable-news in primetime – a position that had long been enjoyed by the 8 p.m. hour in the Fox News schedule, where O'Reilly had a roost for more than two decades,and where Tucker Carlson now holds court.
Maddow's recent gains are part of a viewership surge at the NBCUniversal-owned network that comes as a chaotic White House has driven viewers to MSNBC in ways the executives really haven't seen since the days of Keith Olbermann. Last week, MSNBC's primetime schedule was tops in the demographic most coveted by advertisers – people between 25 and 54 – for the first time since the week of December 29, 2008. MSNBC's "Maddow," "The Last Word" and "11th Hour" are all leading in that viewership category for the month to date, according to data from Nielsen.
Related rachel-maddow-msnbc As MSNBC Makes Shifts, Rachel Maddow Presses On
"MSNBC's ratings surge is entirely due to the ongoing crisis of fake news – the more that news designed to deceive plays a role in politics and our lives, the more people hunger for news they can trust and which is demonstrably true," said Paul Levinson, a professor of media studies at Fordham University.
The onslaught of news surrounding President Trump – a Washington Post report that he may have shared classified information with Russian visitors and a New York Times scoop that he had asked former FBI Director Comey to end an investigation into former National Security Advisor Michael Flynn – has rallied viewers to MSNBC and Time Warner's CNN.
But in recent nights, those stories have not inspired the same rabid interest in viewers of Fox News Channel. For the month through May 16, Fox News' total schedule has attracted more viewers overall and in the demo than MSNBC or CNN. On Monday, Tuesday and Wednesday, however, the network came in third in primetime among viewers between 25 and 54.
CNN often thrives in periods of breaking-news. Its viewership surges when a national crisis unfolds. MSNBC has for the past few years placed more of an emphasis on breaking news during its daytime schedule, while maintaining its progressive-themed primetime lineup.
The question: is MSNBC gaining a new reputation as a place for breaking news, or are liberal viewers motivated to watch more closely while conservatives are not?
Maddow has been leading the charge. In April, her "Rachel Maddow Show" was the most-watched cable-news program in the demo. Overall viewership of her program grew 98% last month while her 25-to-54 audience surged 89%. Her program, which launched on MSNBC in 2008, is currently the fastest growing primetime show in cable news – nearly a decade into its tenure on the air.
---
Poster Comment:
Who can bear to look at him let alone listen to it blabber the faked news.
Madcow is just a lesbian echo chamber for the losers to go. It's their safe place. Conservatives such as myself understand these things as Fox was our hangout the past 8 years. It's okay. We understand your need. She is over the top, inaccurate at times apologizing many times for misinformation, and a flaming Liberal opposed to practically anything conservative; but half the country is brain dead when it comes to issues and listen like department store dummies programed to clap at anything they hear without checking the facts.
(1 image)