Title: Ohio police officer filmed stamping on black man's head as he lies handcuffed on pavement
Source: http://www.ibtimes.co.uk/ohio-police-officer-filmed-stamping
URL Source: http://IBT
Published: Apr 11, 2017
Author: Josh Robbins
Post Date: 2017-04-11 18:39:42 by cranky
Keywords: None
Views: 976
Comments: 12

Officer Zachary Rosen is under investigation and has been temporarily reassigned.
Brutal footage of an Ohio policeman stamping on a young black man's head as he lies handcuffed on the pavement has been published online. The offending Columbus officer is now under investigation.
The two minute clip – filmed and uploaded on Saturday 8 April – shows Officer Zachary Rosen charging up to restrained suspect DeMarco Anderson and violently trampling his head into the ground during an incident in Columbus, Ohio.
Prior to the attack, Anderson can be seen lying face down on the pavement handcuffed and held down by another officer. He is not resisting arrest and the situation is under control.
Seemingly unprovoked, Zachary then charges in from off-screen and smashes the young man's head against the pavement, which can be seen at the start of the video.
Columbus Police said in a statement: "Officer Zachary Rosen is under investigation for his actions that took place involving a suspect under arrest on Saturday, April 8, 2017. Officer Rosen has been reassigned to a non-patrol duty indefinitely."
Police were called to a firearms incident in the vicinity of Maize Road and Weldon Avenue, according to 10TV News.
John Marteny dialled 911 after Anderson allegedly entered his house, woke him up and fired the gun.
Reflecting on the apparent brutality shown by Rosen, Marteny said: "I think that was totally justified cause he could have got loose somehow."
The Columbus Police statement added: "Based on what we've [seen] in the video taken on Saturday April 8, 2017, the action taken by one of our officers does not meet the standards by the Columbus Division of Police.
"It appears to be inconsistent with the values and training we instill in our officers. The officer self-reported a kick to the suspect while the suspect was in custody.
"We'll learn more as the investigation continues and take appropriate actions based on the facts gathered. The officer has been temporarily reassigned."
10TV also report that Rosen was involved in the controversial shooting dead of a young black man, Henry Green in Columbus last year (2016). A Franklin County grand jury determined that Rosen and another officer should not be criminally charged.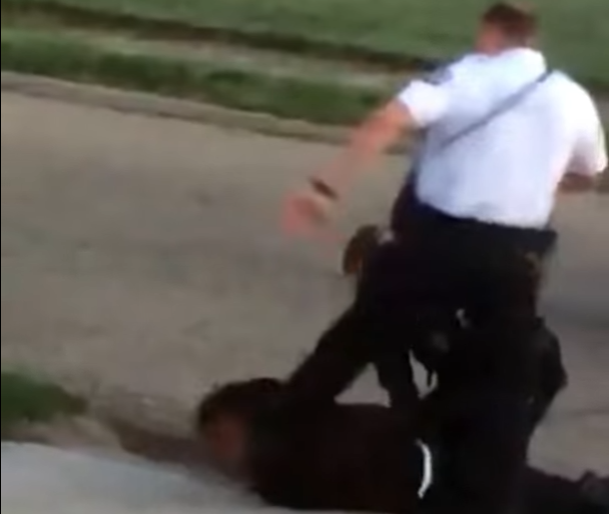 Officer Zachary Rosen appears to kick DeMarco Anderson in the head without provocation
(1 image)