Let him buy his own donuts...
It's National Doughnut Day, they're free today. Happy Doughnut Day!
---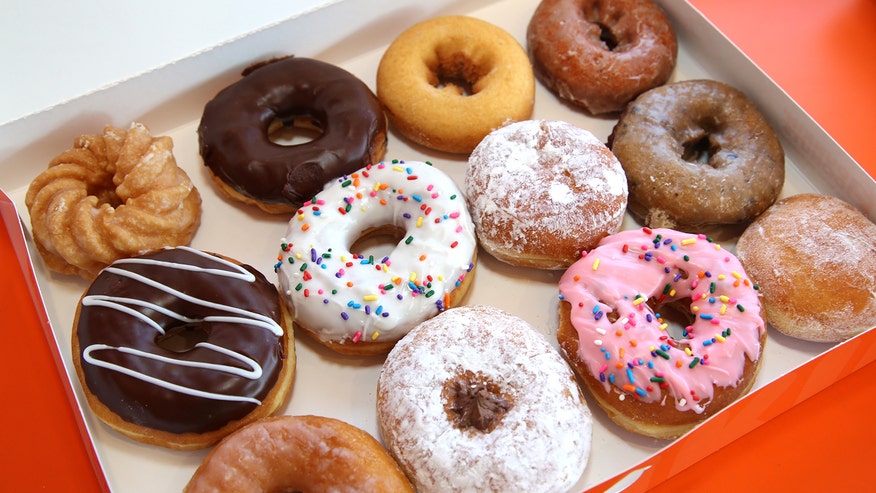 One of the most legit food holidays of the year, National Doughnut Day, is first Friday in June-- aka today, June 5th.
The tradition dates back to 1938, when the Chicago Salvation Army decided to honor women who had served doughnuts, as well as supplies for letters like stamps and pens, and home-cooked meals, to soldiers during World War I. The food holiday now serves as a way raise awareness for the Salvation Army's social services programs.
To celebrate bakeries across the countries are rolling out some specials to celebrate the deliciously sweet and perfectly fried morsels Homer Simpson just can't say no to. If you want to load up on a dozen or more, you may have to shell out some dough-- get it-- but plenty of places are offering donuts absolutely free.
Check out our list for top spots for free doughtnuts this Friday.
Dunkin' Donuts
All day, every day. At participating stores nationwide, customers can get a free donut of their choice-- even the fancy kind with sprinkles-- with the purchase of a drink.
Krispy Kreme
This beloved donut spot is offering a free donut of your choice with no string attached. Available at U.S. and Canada, with the exception of Connecticut and Puerto Rico.
Cumberland Farms
The Mid-Atlantic convenience store chain is offering a morning bargain for early rises. One free donut with the purchase of a hot or iced coffee or Chill Zone beverage from 5am to 10am.

Entenmann's
Want free donuts beyond the 5th? The snack food company is running a "Facebook Sweepstakes" in which you can win free donuts for a year, among other baked goodies and prizes. The sweepstakes started in late April and goes through early July.
The Tuscan Gun Officine & Alimentari
Calling all real New Yorkers! Gabriele Corcos and actress Debi Mazar of Cooking Channel's "Extra Virgin," will be serving complimentary Lavazza coffee and homemade chocolate-coffee doughnuts at their newly opened Brooklyn cafe.
Donut Snob
On the West Coast, Angelinos can enjoy this high-brow eatery's donuts for just $1.75 with 50 percent off delivery costs. Not exactly free, but if you don't have to move to enjoy your Salted Caramel doughnut-- it's still a pretty sweet deal.
Still got a sweet tooth? Check out these funny donut facts.